Solo String Musicians
At Lushous Strings we have a variety of talented, entertaining and professional Soloists to perform at your event .
These are some of our performers who can play solo or in a variety of groups.
They can play acoustic and electric instruments.
Nataliya
Nataliya  is available to play Classical and Pop music on acoustic and Electric Violin. Performances can be with or without backing tracks.
Nataliya began playingthe violin at the age of seven.
She has performed with many artists including Eminem, Hanson Brothers, Olivia Newton John, John Farnham,Ngaiire, Ronan Keating, James Morrison, Elaine Paige, Mark Vincent, Anthony Warlow, Jane Rutter, Judi Conneli, Marina Prior, Emma Pask, David Hobson, Kate Cebrano, Kathryn Selby,Simon Tedeschi, Taryn Feibig, Joseph Tawadros, Jose Carrera and Ian Cooper.
She has performed in shows such as The Voice, The Morning Show and The Today Show, The Bachelor and FOXTEL Arts commercial. Nataliya has played on the soundtracks for Maos Last Dancer and The Lego Movie.
Nataliya continues to perform for major events, private functions as a soloist and in larger string formations.
Solo electric cello

Marleen – "Barbie Cello"
Marleen is available on acoustic and electric cello – playing classical and Pop music ,with and without backing tracks.
An alumni of The Sydney Conservatorium of Music. Marleen has performed with such celebrities such as Delta Goodrem , Boy George, Guy Sebastian and Pauline Curuenavuli.
                    Marleens favourite songs to play on Electric Cello –
Crystallise by Lindsey Stirling
Havana by Camila Cabello
While my Guitar Gently weeps  by The Beatles
Bad Romance by Lady Gaga
Uptown Funk by Bruno Mars
                     Songs on Acoustic Cello
The Swan
Prelude by JS Bach
Schindlers List by John Williams
A Thousand Years by Christina Perri
All of Me by John Legend
She has worked with the George Ellis Orchestra with the live ' Bohemian Symphony', Elton John, The Beatles, David Bowie Shows and is also a regular artist for The Voice and X Factor on TV. She has performed for Lushous Strings as a Soloist at The Star Casino for the Dom Perignon Series and for The Melbourne Cup string quartet.
Aisha
Aisha plays Viola and Violin both acoustic and electric.
She has performed with artists such as Michael Buble, Delta Goodrem, Guy Sebastian and Jessica Mailboy. Shows including Firefight Australia 2019 at the ANZ stadium, On TV for The Voice and for Fashion brand Bulgari.
Through her Orchestral programs she has performed for masterclasses across Europe and Asia. Aisha has has performed in masterclasses with Sheila Browne, the Brodsky Quartet and the Calder Quartet. She has performed with the Australian Youth Orchestra and has been principle violist for the Sydney Youth Orchestra.
Some favourite songs that Aisha performs –
Ed Sheeran (with backing tracks)
Pieces by J.S Bach
Dua Lipa
Can't help falling in Love
Lucy
Lucy was awarded her AMusA in Violin as a 15 year old.  She has played on the Christmas special/ Channel 9 with Delta Goodrem and also as a soloist on 'Farmer wants a Wife' TV program in 2021. Lucy has played for the Melbourne Cup at The Star Casino and in duos for The Marrickville Metro Xmas cheer for Lushous Strings.
She is available to play electric and acoustic violin.
Lucy has played in workshops for the Australian Opera and Ballet Orchestra, the London Symphony Orchestra, the Sydney Symphony Orchestra, the Royal Concertgebouw Orchestra and the  Australian World Orchestra.
Lucy loves music making and the opportunity to perform. Her recent solo competitions include performing in the semi finals of the Kendall National violin competition in 2020 and winning the 2017 Macquarie Symphony Orchestra Thompson Prize competition.
Scarlett   
Having graduated from the Conservatorium of Sydney high school and a nominee for the Encore concert , Scarlett is persuing higher degrees and an active soloist and chamber music performer. 
Scarlett has performed on the Today Show, Delta Goodrem and with the GEO orchestra. She is available on electric and acoustic Violin.
Tanya
Was a finalist in the Canberra concerto competition  in 2018. Tanya has played with the Australian Youth Orchestra and the Australian Chamber Orchestra Academy. She has played at Government house , alongside Kate Ceberano in Tasmania at Josef Chromy wines and Delta Goodrem.
Tanya is available on electric and acoustic violin.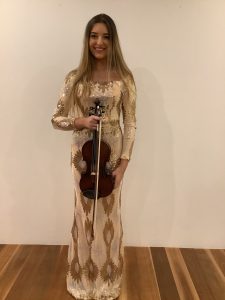 James
James is enjoying a versatile career as an orchestral,chamber player and as a soloist on a modern and baroque violin.
He has performed as a principle player with the Australian Youth Orchestra and performs in projects with Ensemble Apex. James was the inaugral winner of the Austria Scholarship which saw him travel to Vienna and Saltzburg in 2020 to immerse himself in the Austrian music industry. Currently James regularly performs with the Australian Brandenburg Orchestra.
James is available on the violin and specialises in baroque and Classical music but also plays modern arrangements.
Alisdair
Alisdair is a cellist who performs in all styles on acoustic and electric cello.
He is a graduate in performance from the Sydney Conservatorium of Music and is also an active participant in Orchestras, string quartets, trios and Duos. Alisdair has toured regionally and internationally having also been principle cellist with the Sydney Youth Orchestra.
Recently playing in the Carols in the Domain and shows at the Opera House. Alisdair plays as a soloist enjoying popular arrangements but also performing popular classical pieces such as 'The Swan' and J.S Bach Prelude from suite 1 .
Marcus 
Marcus started playing the violin at the age of 5. As a young musician he was a part of the rising stars program at the Sydney Conservatorium of music.
He has then gone on the be concertmaster at Sydney Youth Orchestra and and played in numerous programs for the Australian Youth Orchestra. Since 2019 Marcus has been associate concertmaster for the AYO Weiss Chamber Orchestra.
More recently he has recorded at Electric Avenue Studios for Roderic Whites 3rd album project.
Marcus enjoys playing classical, romantic, and pop styles of music . He is available to play acoustic and electric Violin.